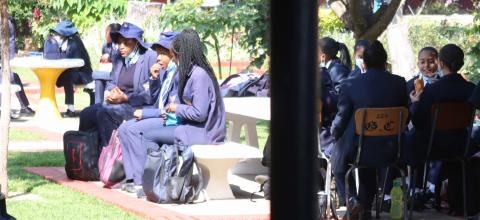 ACADEMIC SUBJECTS OFFERED IN FORM 1 AND 2
CORE

OPTIONS

ICDL

ENGLISH

GEOGRAPHY

HISTORY

MATHEMATICS

SCIENCE

ACCOUNTING

BUSINESS STUDIES

SHONA

FASHION AND FABRICS /

DESIGN & TECHNOLOGY/

FOOD AND NUTRITION

 

A TOTAL OF 11 SUBJECTS
SUBJECTS OFFERED AT 'O' LEVEL
At the end of Form two subject selection will be carried out. The process involves the parents, the student and teachers. The subjects offered are as follows:
FORM 3 AND 4                  
COMPULSORY
ENGLISH LANGUAGE
GEOGRAPHY 
MATHEMATICS
OPTIONS
A.   Either BUSINESS STUDIES
       or         COMMERCE
B.   Either FASHION & TEXTILES
       or          DESIGN & TECHNOLOGY
      or          ICT
      or          FOOD & NUTRITION
C.   Either ENGLISH LITERATURE
       or         SHONA
 D.   Either HISTORY
         or        ACCOUNTING
E.   Either  CHEMISTRY, PHYSICS  AND  BIOLOGY
       or          PHYSICAL SCIENCE AND  BIOLOGY  
N.B.  OPTIONS ARE DISCUSSED WITH PARENTS IN TERM THREE (3) OF FORM 2.
Each Student is expected to choose one subject from each of options from A to D and then select either Chemistry, Physics and Biology or Physical Science and Human and Social Biology in Option E.
The selection is guided by their performance from Form One to Two. While the process is consultative, please note that teachers will have the final say, on the selection of subjects for Form Three.
| Secondary 1 (for form 2) | Ordinary Level |
| --- | --- |
| | |